Anthony Plog on Music
Conversations with performers, composers, and entrepreneurs





---
Chris Martin and Joe Alessi, NY Phil Principal Trumpet and Trombone
Anthony Plog, host
Eddie Ludema, producer
Date posted: Mar 5, 2021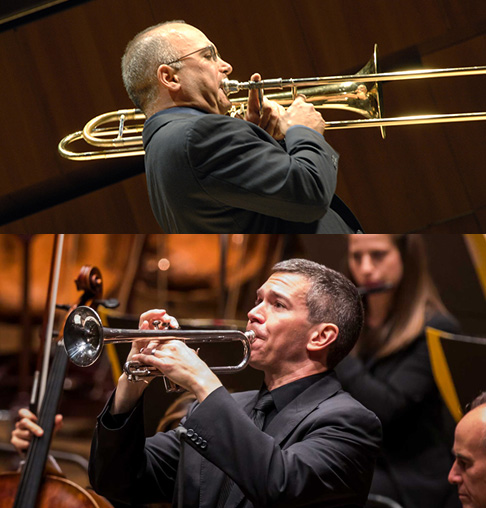 Chris Martin and Joe Alessi hold the principal trumpet and trombone positions with the New York Philharmonic. In addition to being iconic musicians in the brass world, they both teach at the Juilliard School of Music and have active solo careers.

Part 1
In Part 1 of our conversation, Chris and Joe talk in depth about how they work together in the New York Philharmonic Orchestra and discuss working with students on these concepts. We end this part of our conversation with Chris and Joe talking about methods they use to constantly critique their own playing.
Part 2
In Part 2 of our conversation, Joe and Chris discuss their own auditions and give insights that I think could be very valuable to students who will be taking auditions in the future. In addition, since both played with the Philadelphia Orchestra (at different times), they speak about how the principal players at the time, Glenn Dodson and David Bilger, became mentors for them. They also compare how they practiced as students compared to now and, finally, qualities that they see in great students.
Bonus Room
In the Bonus Room, Chris and Joe talk about how fitness is important to them, and what it was like to work with the musical geniuses John Williams and Chick Corea on solo pieces. And, as an aside, why Joe wants my son Jason to come to Canada to give him table tennis lessons (spoiler alert: he hates to lose to other NY Philharmonic players).
Links
The podcast theme music, Four Sierra Scenes, written by Anthony Plog, is taken from Crystal Records S205, copyright ©1980 Crystal Records Inc., and is used by permission. Unauthorized duplication is not permitted.