Anthony Plog on Music
Conversations with performers, composers, and entrepreneurs





---
Mari Tyvand & Mal Layne, Two inspiring young musicians tackling challenges and achieving their dreams!
Anthony Plog, host
Eddie Ludema, producer
Date posted: Feb 17, 2023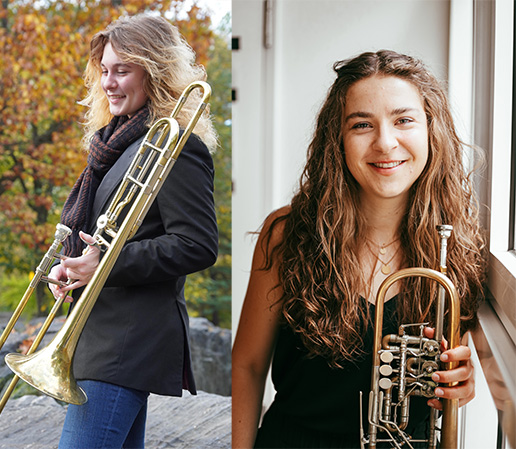 In the course of this podcast, it has been both a pleasure and also an honor to interview some of the most iconic people in various areas of music. I think it is very easy to think of those people as being incredibly gifted (which of course they are). But what about students who are on their way to a successful career - what is the path they have chosen, what are the obstacles they might face, and what are the doubts that they must deal with?

Meet Mari Tyvand, trumpet, and Mal Layne, trombone, who are now masters students at the Frankfurt Musik Hochschule and the Juilliard School of Music. They have had to overcome huge obstacles (Mari had to deal with chronic acute hand tendonitis over a ten year period that at one point was so bad that her parents had to brush her teeth), and make life changing decisions (in high school Mal had to decide between a life of financial security and a life that would make her happy). But in overcoming these obstacles both Mari and Mal have also had their successes: Mal released her first CD (Integration by Parts) in 2022 and Mari has performed with orchestras such as the Swedish Chamber Orchestra, the Arctic Philharmonic, and the Stavanger Symphony. These two women are very inspiring, and I hope you will enjoy their story.

Part 1
In Part 1, I begin by asking Mari and Mal how they got started playing and the path that eventually brought them to where they are now as masters students. Along the way, you will hear of Mari's struggle with acute hand tendonitis which kept her from playing for a number of years, and Mal's hair-raising story of what happened on the way to her first lesson with Joe Alessi.
Part 2
In Part 2 of our conversation, Mal and Mari talk about how they are able to combine free-lancing while being in school and studying. We also talk about auditions ... and the difficulty of taking a compliment (!).
Bonus Room
It is easy to focus on times when things don't go well with the playing, and so Eddie Ludema and I ask about times when things worked really well. I tell the story of Joe Alessi's perfect note, and we end our conversation by talking about the future.
Links
The podcast theme music, Four Sierra Scenes, written by Anthony Plog, is taken from Crystal Records S205, copyright ©1980 Crystal Records Inc., and is used by permission. Unauthorized duplication is not permitted.