Anthony Plog on Music
Conversations with performers, composers, and entrepreneurs





---
David Krehbiel, Chicago, Detroit and San Francisco Symphony Horn
Anthony Plog, host
Eddie Ludema, producer
Date posted: Jan 22, 2021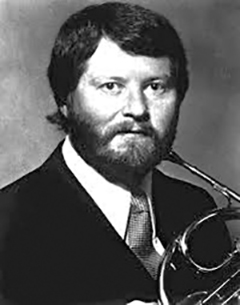 David Krehbiel has led an incredible career as an orchestral hornist. In addition to being a member of the Chicago, Detroit and San Francisco Symphonies, David was Chair of the Brass Department at the San Francisco Conservatory of Music and is a founding member of the Summit Brass as a player and conductor.

Part 1
In Part 1 of our conversation, David talks about his beginnings, the dream that influenced his life, and his years with the Chicago Symphony. We learn what it was like auditioning in Fritz Reiner's apartment; sitting alongside icons such as Arnold Jacobs, Adolph Herseth, and his teacher Philip Farkas; and playing for his hero, Paul Hindemith, including the story of how Hindemith exacted sweet revenge on David's behalf.
Part 2
After playing with the Chicago Symphony Orchestra, David moved to the Detroit Symphony where he was principal horn. During his time in Detroit, he was a founding member of the rock group, "Symphonic Metamorphosis", had an interesting recording experience with Marvin Gay, and continued his interesting relationship with Arthur Fielder. He then won his dream job with the San Fransisco Symphony and worked with music directors Seiji Ozawa, Edo de Waart, Herbert Blomstedt, and Michael Tilson Thomas.
Bonus Room
David is well known in the brass community for his pranks and, although I tried, I was unable to escape some of his jokes. So enjoy this Bonus Room with one of the world's great pranksters, the one and only, Dave Krehbiel!
Links
Britten, Serenade

Strauss, Ein Heldenleben, with commentary

Bach, B-minor Mass, Brandenburg Concerto No. 1, with commentary

The podcast theme music, Four Sierra Scenes, written by Anthony Plog, is taken from Crystal Records S205, copyright ©1980 Crystal Records Inc., and is used by permission. Unauthorized duplication is not permitted.