Anthony Plog on Music
Conversations with performers, composers, and entrepreneurs





---
Carol Jantsch, Soloist Extraordinaire and Principal Orchestral Tubist of the Philadelphia Orchestra.
Anthony Plog, host
Eddie Ludema, producer
Date posted: Mar 16, 2023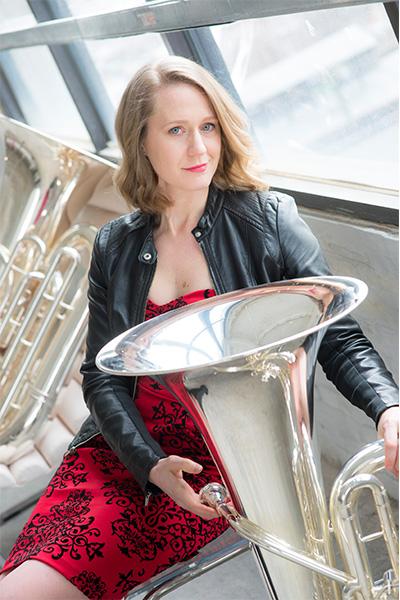 Carol Jantsch made history in 2006 when she won the position of principal tuba with the Philadelphia Orchestra, becoming the first woman to win such a position in a major American orchestra. But even more impressive is that she won the chair while she was still in her senior year at the University of Michigan. Noted not only for her orchestral playing, she is a brilliant soloist, and in addition to her solo recitals has appeared with numerous orchestras including the Philadelphia Orchestra. Her career serves as an inspiration to young women throughout the world.

Part 1
When she was 14 years old, Carol was third tuba in the band at the Interlocken Arts Academy, but by the age of 18 was in the semi-finals for the principal tuba position of the New York Philharmonic and two years later won the principal position with the Philadelphia Orchestra, a position she still holds. So in Part 1, we discuss in depth her transition from being a student to becoming a professional.
Part 2
In the second part of our conversation I ask Carol to talk about the role of the tuba in the brass section and also the orchestra, and how her interpretation changes when playing the different brass instruments and how she adapts for different styles. Carol has premiered solo works by Michael Daugherty and Wynton Marsallis, both written for her, so I asked her to take us through the process of working with two different composers and the give-and-take process of bringing a new work to life.
Bonus Room
In addition to being an orchestral musician and soloist, Carol also teaches at Yale University, so we disucss her thoughts on teaching and practicing. In addition to everything else, she founded an organization called Tubas for Good, which supplies tubas and euphoniums to underfunded school arts programs.
Links
The podcast theme music, Four Sierra Scenes, written by Anthony Plog, is taken from Crystal Records S205, copyright ©1980 Crystal Records Inc., and is used by permission. Unauthorized duplication is not permitted.