Anthony Plog on Music
Conversations with performers, composers, and entrepreneurs





---
Roger Bobo, The World"s Innovative Tubist
Anthony Plog, host
Eddie Ludema, producer
Date posted: Mar 26, 2021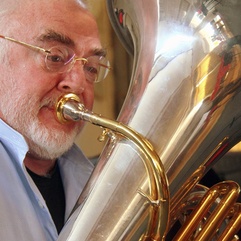 Roger Bobo is a brass legend and is recognized as an orchestral tubist, soloist, and teacher. He was first a member of the Rochester Philharmonic, then the Concertgebouw Orchestra, and finally the Los Angeles Philharmonic Orchestra. As a soloist he has performed around the world and was a member of the famed Los Angeles Brass Quintet. At a time when tuba was not considered a solo instrument, he raised the level and standard to new heights.

Part 1
In Part 1 of our conversation, Roger talks about his friendship with fellow tubist Tommy Johnson, playing with the Rochester, Concertgebouw, and Los Angeles Philharmonic Orchestras. We also talk about when he played with the Los Angeles Philharmonic Brass Quintet and why he turned down George Szell when Szell asked him to join the Cleveland Orchestra.
Part 2
Roger discusses his teaching career in Part 2, and what it has been like to teach in Switzerland, Italy, England, Japan and now Mexico. Some of the teaching was a study in contrasts, for example the difference between students in Japan and Italy!
Bonus Room
In the Bonus Room, I had to (of course) ask Roger about eating and some of his favorite cuisine! Roger has also been around some of the greatest performers of our time, including when he realized that Pavarotti stole his warm up (sort of). We end with a story of a concert he and I did at a beautiful castle in the mountains in Italy, and how someone in the audience asked us during intermission if we were sight reading... and Roger's positive and hopeful answer!
Links
The podcast theme music, Four Sierra Scenes, written by Anthony Plog, is taken from Crystal Records S205, copyright ©1980 Crystal Records Inc., and is used by permission. Unauthorized duplication is not permitted.