Anthony Plog on Music
Conversations with performers, composers, and entrepreneurs





---
Become a Contributing Listener!
(Coming soon!) As a Contributing Listener of "Anthony Plog on Music" you will have access to extra premium content and benefits including:
Extra Audio Content: Only available to Contributing Listeners.
Podcast Reflections: Tony's written recaps and thoughts on past interviews (including valuable tips and suggestions for students) going all the way back to his first interviews in 2020.
Ask Me Anything: Both as written messages via Supercast and via occasional member-only Zoom sessions.
The Show's Discord Server: Where conversations about past interviews, show suggestions, and questions happen. It's a great place to meet other listeners and chat about all things music!
Can I just donate instead of subscribing? Absolutely!
Cancel at anytime and easily resubscribe when you want all the extra content again.
Find out more (Coming soon!)
Gail Williams, Internationally recognized hornist and brass pedagogue
Anthony Plog, host
Eddie Ludema, producer
Date posted: Oct 19, 2021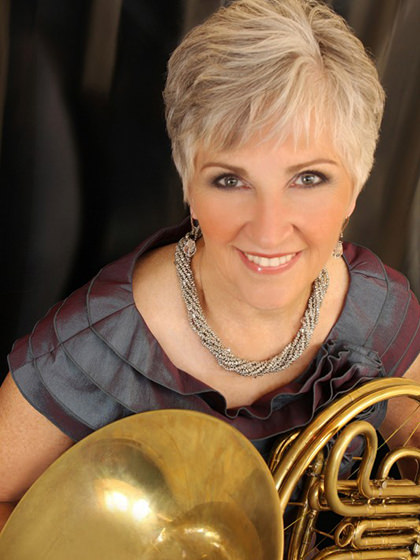 Gail Williams has had a remarkable career as an orchestral musician, chamber musician, soloist and teacher. During the course of our conversation, we touch upon all of these creative aspects of her life and how her view of music and life is informed by these many experiences, both in music and in life.

Part 1
In Part 1 of our conversation, I ask Gail about her life growing up on a farm and how that experience has influenced all aspects of her life. We then talk about her early experiences as a player, how she tries to think not only like a brass player, but like a string player and singer as well. We end Part 1 by talking about her first job, playing with the Chicago Lyric Opera Orchestra.
Part 2
We continue our conversation with Gail talking about her time with the Chicago Symphony, and what it was like to sit next to Adolph Herseth and in front of Arnold Jacobs. I ask her to name some of her favorite conductors and why, and we end this section with Gail describing some of her chamber music experiences and being a founding member of both the Chicago Chamber Musicians and the Summit Brass.
Bonus Room
In the Bonus Room, Gail talks about how she tries to copy the way a singer would approach a phrase, and also how playing natural horn has influenced her interpretation of certain pieces. We end our conversation by talking about her concepts of teaching.
Links
---
Gail performing Glière's "Four Romances for Horn"
---
Gail performing a horn solo in Mahler's 6th Symphony
The podcast theme music, Four Sierra Scenes, written by Anthony Plog, is taken from Crystal Records S205, copyright ©1980 Crystal Records Inc., and is used by permission. Unauthorized duplication is not permitted.